Introducing the Re-Launch of over 300 Masterpieces by Richard A. McConaghay over International Historic News dating from 1989-1997.
McConaghay and the DAILY MUSE represent the intellectual and emotional context of modern art in America.
The DAILY MUSE was created by the artist, Richard A. McConaghay, in 1990. He was experimenting with color laser technology as a method of creating high-quality art prints. Since that time, McConaghay has developed the DAILY MUSE into a distinct, provocative art form which includes the reproductions of drawings on newspapers from all over the world dating from 1989-1997.  He began corresponding and collaborating with journalists around the world to create his works of art and the premise was simple. Journalists sent newspapers, and McConaghay would send a reproduction of the image if he felt inspired to draw on their newspaper canvas. "I guess newspaper people are art lovers," says McConaghay. "Before long, newspapers from all over the globe were showing up in my mailbox."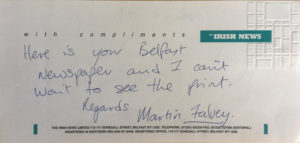 Today, there are more than 300 images in the Daily Muse collection. They are being made available to the public for the first time in over two decades.
According to McConaghay, on the surface the Daily Muse is "an upbeat answer to bad news" but if you look closer you'll find the complex juxtaposition of a newspaper reality and the emotion-filled observations of the artist. They come together to stimulate both the right and left brain as well as the emotion of the viewer all at once. His drawings make ironic observations and in some cases provide commentary. McConaghay creates a universe in these images and if desired, you can order them into a story–even a diary.
For McConaghay, the newspapers provide its "daily muse" with headlines and articles contained within. But on a deeper level, the newspapers serve as an icon of the modern craving for the latest news and the information age, which McConaghay feels has spread around the world like an unchecked virus. The newspapers also represent the sameness of humans regardless of what language is spoken and no matter where we live globally. The newspapers are like a time-bomb, ticking unto a time when their historical and nostalgic relevance will create a larger explosion of interest in the artist and his time.